ORKZ 36
The Old Roman Catholic Hospital, also known as "OLD RKZ" or ORKZ, is a legalised squat located in Groningen, Netherlands. the property was vacant after the Roman Catholic Hospital in 1979 moved to a new complex. It was squatted and today there are about 250 people living in the "Het Oude RKZ". After the RKZ vacated the property was nominated by the municipality for the demolition: Luxury homes would be built on the site. On 3 September 1979 the building was occupied. The ORKZ is the largest squatted complex in the Netherlands and the second in Europe after Christiania, Denmark. On september, 3th, 2015 ; ORKZ celebrated its 36 anniversary. celebrations started on saturday. There was a free dinner at the ORKZ restaurant, not just for the inhabitants, but for whoever wanted to join. Everyone made some dish. The restaurant use to have very popular prices and normally it is also possible to pay by washing dishes or helping out in the kitchen Celebrations started already in the afternoon with various games, including wrestling and a particular version of football played with a squared ball made with papers and cartoons. After several raining days remembering that summer is going end, sun comes out from behind the clouds to join the ORKZ celebrations. It is also possible to taste a typical dutch dish: raw harrings, made by Marteen in a small kiosk in the garden. Jacob (13) & Lucas (8) are watching the various competitions with attention while their dad, David (45), it's taking photos with his camera. David recently moves to live there and his kids are visiting him for the weekend. Meanwhile Marteen (35) is making harings in a small kiosk close by, to have a taste it cost just 2 euros. He explains his grandfather uses to tell him that the perfect harring has to be cleaned and prepared in less then 30 seconds. Marteen studied biology and it's now living in orkz for 14 years, alone. Or better, he has his little parrot that makes him company. He does various maintenance jobs into the building, and is happy to show around and in particular the basement, where there is a small museum telling about the story of orkz, collecting different objects founded by people that first squatted the hospital while renovating it. There are also a recycling center and various laboratories in which who has particular manual skills uses to give classes to everyone is up to learn. In the basement area are living also Bart (27) and Tessa (24), a young couple that has built the flat where they are now living. Bart uses to do various jobs and is also part of the team that cares about the building maintenance togheter with Marteen. Tessa is an illustrator. They are both in the gardeen too to watch the football match. There are people of any age, old and youngs, many children. Family with kids and students. Linda (40) is enjoyng this afternoon of celebrations with her young kid, Ismay, 2 years old. She is a single mother, living in orkz for 15 years. Sitting close to Marteen 's harrings kiosk Fiona (26) is noting her thoughts. She's just back from a long trip in Asia, just graduated in History and is now working on a "Groningen alternative tour". She lives in one of the corridors located on the top of the building, from where it is possible to see the city skyline: the huge terrace from one side, the Martini tower on the other one. When the games ends all peoples move to the restaurant for dinner. Close to the restaurant there is a "give away shop", and walls are hosting different photo exibitions. ORKZ hosts many artists, one of those is Dajana (27), a young painter that uses to works on her art in the studio inside the orkz. Frank (25) is studing audiovisual and works on scratches for his street art projects on his lighty room. Also Rosa (25) is attending the dinner, she's brand new in the Orkz: her room is still empty. After the dinner everyone will join the party in the bar, just few meters away from the restaurant. The bar is hosted in the former autopshy area of the hospital, is colorfull, paintend with murales and post industrial style decorations. One beer costs just 1 euro. The party can continue for everyone, ORKZ just becomes 36, and is still under costruction, and it seems all its hinabitants are planning to live there for a while, without caring too much about an articole appeared on a local newspaper years ago, that was stating " orkz experiment failed". Looking the happy faces of its hinabitants having goodtime while celebrating its birthday, it doesn't seems like that at all.
Emmastraat 15 ,Groningen - NL.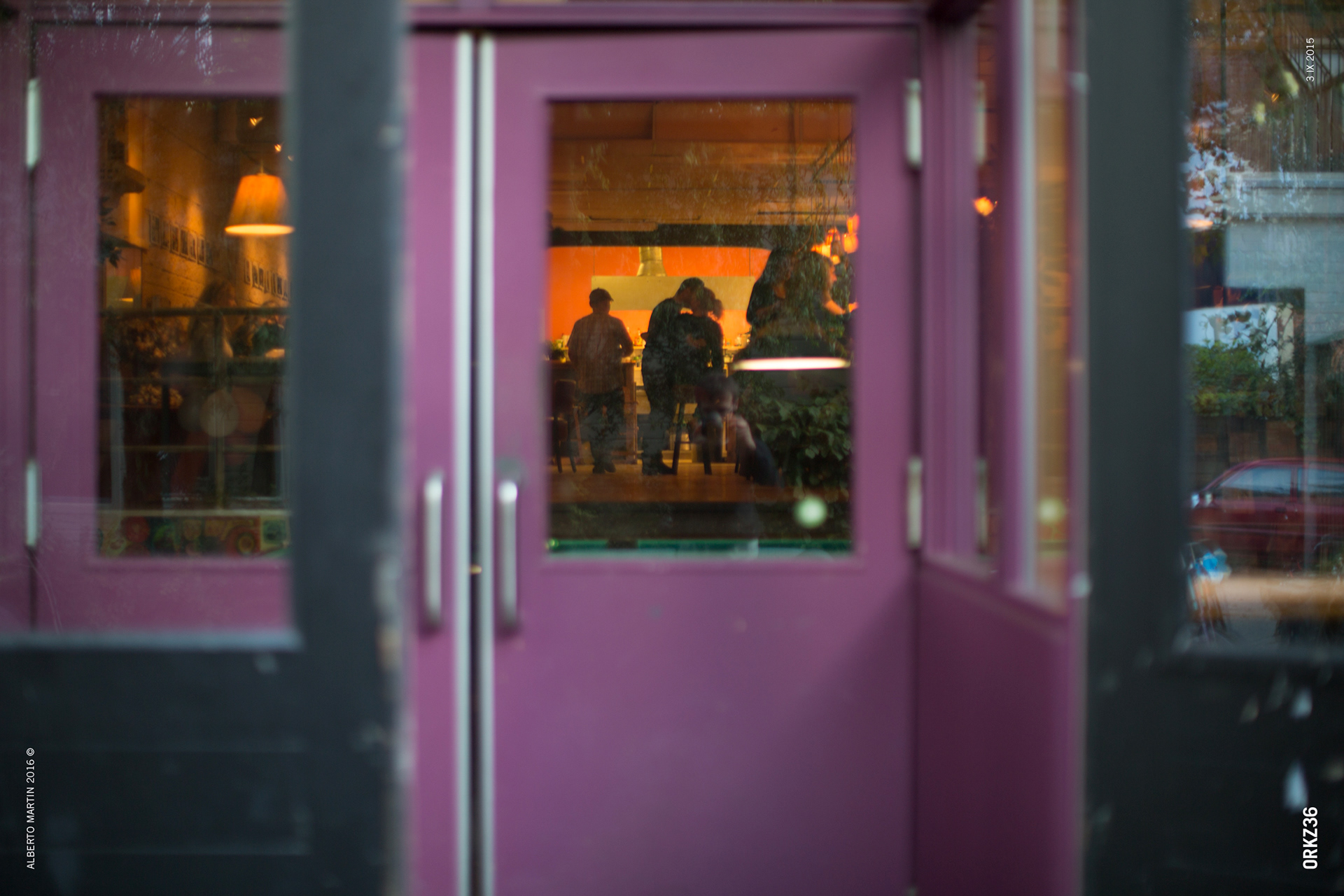 View from the roof on Groningen city.
ORKZ 36 celebration games.
ORKZ 36 celebration games.

Jacob (13) & Lucas (8) ORKZ 36 celebration games.

ORKZ 36 celebration games.

ORKZ 36 celebration games.

ORKZ 36 celebration games.

Marteen (35) making harings.
Fiona (26) noting her thoughts.
Fiona (26) is noting her thoughts.
Marteen and his little parrot.
Jacob (13), David (45) and Lucas (8).
Linda (40) ans Ismay,(2).